PURE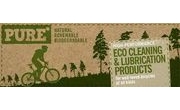 A2Z of PURE
PURE Bike Protector
(On display in Tools and Workshop » Lubricants, Grease and Degreaser)
Engineered and produced with care in the UK, PURE lubricants and cleaners are a high-performance alternative to 'traditional' toxic products. They're biodegradable and environmentally friendly, all without compromising quality in the slightest. If the way you treat the Earth is as important to you as the way you treat your bike, PURE Bike Lube is the natural choice.

Rigorously tested by the eleven Mike's Bikes Service Departments in Northern California before being imported into the U.S., PURE Eco Lubes and Cleaners are proven to perform at the highest level. Parent company Weldtite has been making superb bicycle cleaning & lubrication products for decades, and their development team hit a home run with the PURE Eco line.
Unfortunately we don't have details for the PURE website, but if you
Contact Us
here at the shop, we'll gladly give you details of any products you're trying to find.